We're Hitting the Road 
Back in September, BasicBlock teamed up with FreightCaviar and spent four days across four cities spreading logistics knowledge, checking in with awesome clients, and having a great time all along the way. 
First Stop–The Windy City
We took to the streets to find out what your average person knows about freight factoring. Spoiler alert–they may be slightly clueless, but that's where we come in. 
We put Chicagoans' knowledge to the test on things like driver salary, delivery times, and, of course, payment periods. As you might expect, most people overlook the challenges that truck drivers and trucking companies face when it comes to getting paid in as timely a manner as they're moving the products. Most had no clue that while their goods may be shipped within a matter of days, getting paid for delivering those goods can take weeks or months. We'll have a video coming soon highlighting all the answers people on the street gave, so make sure to stay tuned to this blog for updates.
We're glad we got the chance to get a few people to think more about the companies and drivers who keep things moving. 
Onwards to Pittsburgh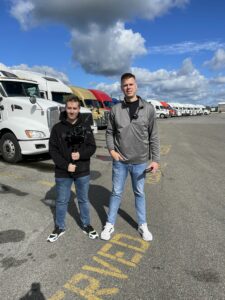 Our next stop was Pittsburgh, Pennsylvania, the City of Bridges. While there, we had the chance to speak with Darrell and Steven over at Rapid Asset Recovery. We heard their thoughts on how combining BasicBlock factoring services and fuel cards has made things easier for them.
They told us how the fuel card BasicBlock provides kept significant savings in their pockets with all the fuel surges going on. It gave them more freedom where they stopped to top up—no need to feel forced into a station with long lines and high prices. 
"We can go where the cheaper fuel is, and that really helps us a lot." You can check out some clips from our talk with Rapid Asset Recovery by clicking here. 
Dropping in for a Visit to Columbus
We got on the road and headed to Columbus, Ohio. In recent years, Columbus has quickly made a name for itself as a hub for innovation in tech. This city is the perfect place to hear whether the BasicBlock app keeps up that same pace.
We met up with one of the early users of the app, Yusuf from Sunway Transportation. Yusuf started with one truck, and now his fleet has grown to five with BasicBlock's help, and he's remained a satisfied and loyal customer. It was great hearing from someone who has stuck with the service from its initial start to now.
It's safe to say that he's a pretty happy customer. You can check out what Yusuf had to say in the interview here.  
Game Time in Cleveland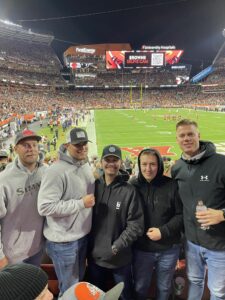 We decided to close our trip together by catching a Thursday Night Football Game. And it was the perfect way to end our tour. Stadium lights flooded down on us, standing in a crowd decked out in orange and brown merch as their cheers rose into the night sky.
Home Again, Home Again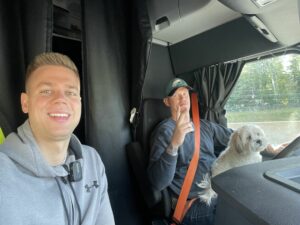 What do you do after a night of football, friends, and food? Well, you hitch a ride back home with a friendly trucker. Like BasicBlock users, FreightCaviar has got no time for waiting around. We loaded up with a truck driver in Mentor, Ohio, and headed back to Chicago. You'll hear more about that trip in a video coming soon.
For now, we'll end this journey here. Keep an eye on this blog and BasicBlock on YouTube or TikTok, so you don't miss any future moments on the road.